Gulfport Bicycle & Pedestrian Accident Attorney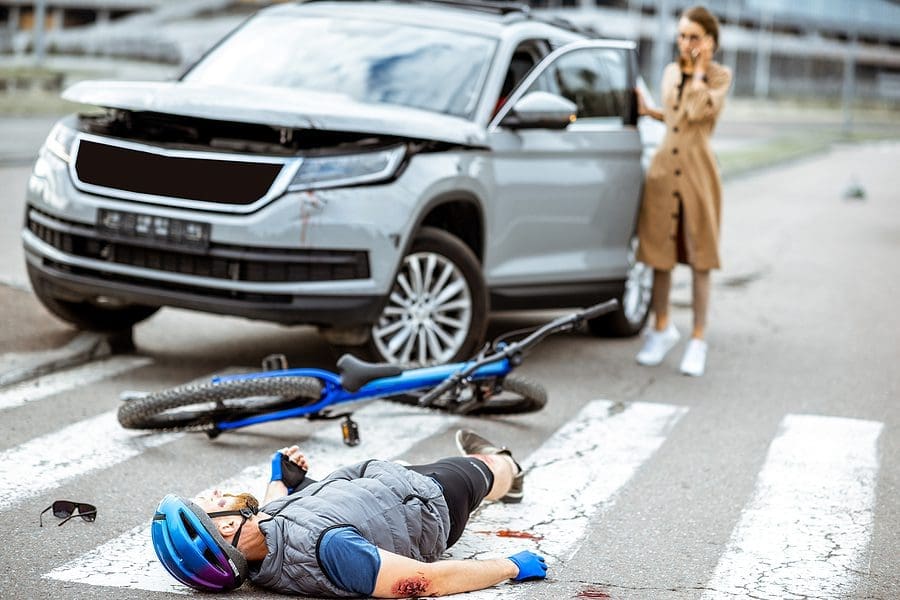 If you've been involved in a bicycle or pedestrian accident, you may be entitled to compensation for your damages.
When compared to other motor vehicle accidents like car accidents, pedestrian and bicycle accidents are much more dangerous. Motor vehicle occupants have an outer shell to protect them. So the damage is often more minor than with bicycle/pedestrian accidents. Pedestrians and cyclists don't have any protection. So their injuries are frequently severe and devastating.
Bicycle & Pedestrian Accident Statistics
In 2019, there were 843 bicyclists killed in crashes with motor vehicles in the United States. This accounted for approximately 2% of all motor vehicle crash deaths.
Bicycle accidents are most common among adults over the age of 20. However, accidents involving children still occur, though not as commonly. Bicycle accidents are also much more common among males.
When it comes to pedestrian accidents, there were 5,977 pedestrian fatalities in 2017 across the US. The CDC also states that about half of all accidents involving pedestrian fatalities include the use of alcohol by either the driver and/or the pedestrian.
How dangerous is it for bicyclists and pedestrians in Florida?
Florida not only ranks as the most dangerous place for bicyclists. The state is also the most dangerous place for pedestrians. In a top 20 list of the most dangerous states for pedestrians, based on how many fatalities occur in relation to the population, Florida came in as number one with nearly 6,000 fatalities. The second-place state, Alabama, had only a 1,000.
That means that Florida is not only the most dangerous state for pedestrians, but we're six times more dangerous than the second most dangerous state.
When it comes to cyclists, Florida also claims the number one spot. Cape Coral, Florida, checks in as the most dangerous place for cyclists in the country. But many other Florida cities make the list as well.
Where do most accidents occur?
The cities where accidents occur most often, making them especially dangerous for bicyclists and pedestrians include:
Orlando / Kissimmee
Tampa / St. Petersburg / Clearwater
Jacksonville
Miami / Fort Lauderdale
While these are the cities in Florida where the most accidents occur, accidents can occur anywhere. If you're a pedestrian or cyclist, make sure you're following safety procedures to keep yourself as safe as possible no matter where you are.
What are the most common causes of bicycle & pedestrian accidents?
Pedestrian and bicycle accidents are most commonly caused by driver error. This means that the driver was acting with negligence when the crash occurred. Negligence can look like:
Distracted driving, such as texting, talking on the phone, eating, applying makeup, looking for entertainment, talking to someone in the back seat, or any other distractions that take the eyes, ears, and/or mind off the road.
Driving while under the influence of drugs or alcohol. DUI can cause drivers to lose critical thinking skills, decision-making ability, vision, hearing, and more.
Speeding or otherwise reckless driving can make it much harder for drivers to adjust to rapidly changing traffic conditions, like a traffic light change or someone slamming on their brakes.
Inexperienced driving, such as younger drivers who don't know to look out for pedestrians and bicyclists with as close an eye as more experienced drivers.
Who's liable for my accident?
Determining liability is important in all case types. The liable party is the one that's at-fault for the accident. And, therefore, the party you'll file an injury claim against. To determine who was liable for your accident, your personal injury attorney will further investigate the scene of the accident and gather evidence from police reports and witnesses.
To determine that someone was liable, they must be able to prove that the driver breached their duty of care. All drivers owe a duty of care to others on the road. Basically, this means that by operating a motor vehicle they agree to try their best to keep other people safe at all times.
After proving that this duty of care was breached in some way, they must be able to prove that the breach caused your accident. This is a fairly simple part of the process. By proving that the driver was acting negligently, it easily links to the cause of your accident.
Finally, you must have damages that can be claimed in the form of compensation. This means that you must have medical bills, lost wages, or other damages that occurred only because of the accident.
How much is my claim worth?
If you've been injured in a pedestrian or bicycle accident, you're likely spending a lot of your time thinking about money. How are you going to pay back your medical bills? What are you going to do about your lost wages?
We know how stressful it is to think about the money you've lost. But our attorneys are focused on making sure you get back that money—and then some. It can be hard to estimate your settlement value without speaking to an attorney. However, there are some factors that affect how much you could potentially receive, such as:
The severity of your injuries
The at-fault party's available insurance
Liability
When should I hire a personal injury attorney?
If you or someone you love has been injured in a bicycle or pedestrian accident, you should contact a personal injury attorney as soon as you can following your accident. An experienced and aggressive attorney, such as those at Jones Law Group, can ensure that you get the compensation you deserve for your damages.
For more information or a free case evaluation, please contact our talented team of attorneys online or at 727-571-1333.